On 21th March 2018, 44 African countries have signed the FIRST intro-African TRADE AGREEMENT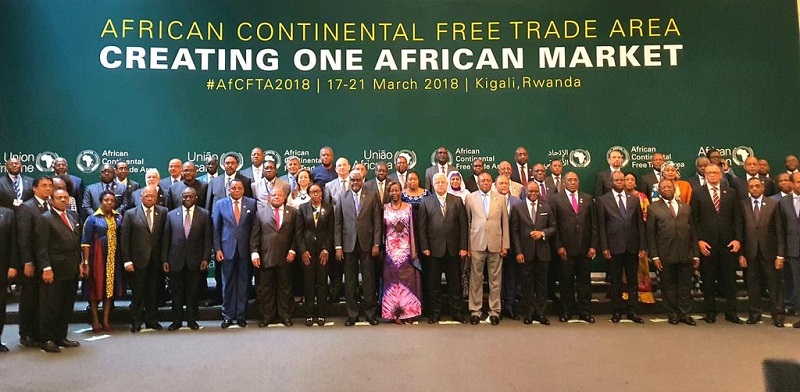 " Forty-four African countries have signed up to a historic trade agreement aimed at paving the way for a liberalized market for goods and services across the continent.
The African Continental Free Trade Area (AfCFTA), an agreement cast in the mold of the European Union's version was signed during the 10th Ordinary Session of African Union Heads of State summit held in the Rwandan capital, Kigali.
The AfCFTA gives birth to the world's largest free trade area since the World Trade Organization which was formed in 1995. A total of nineteen presidents were present whiles a number of Prime Ministers and government representatives also signed for their respective countries.
 Moussa Faki Mahamat, the Chairperson of the African Union Commission celebrates the signing of AfCFTA.
In remarks on Tuesday during deliberations, host and current African Union (A.U.) president, Paul Kagame said: "This agreement is about trade in goods and services. These are the kinds of complex products that drive high income economies."
Under the theme: "Creating One African Market," the initiative falls under the Agenda 2063 of the A.U. According to estimates, if all 55 members states of the AU ratify it, the agreement will bring together 1.2 billion people with a combined gross domestic product (GDP) of more than 2 trillion US Dollars.
The failure to attend by Nigerian president Muhammadu Buhari who leads Africa's largest economy and Uganda's Yoweri Museveni had analysts worried. Ugandan Foreign Affairs minister attended and signed. Nigeria did not sign.
Analysts say Buhari may have caved under pressure from local labour unions and big corporations who have opposed the treaty saying it would harm the local economy. "If Nigeria does not join, it will have an impact definitely. Nigeria is 190 million population country, it's a large economy. So we hope that Nigeria will not pull out of it.
"Nigeria had already been part of the process of building it, we think it's just maybe one step back that they are taking to review," Alpha Sy, an analyst said.
Nigeria fully recognizes & appreciates the efforts of the African Union Commission so far, regarding the implementation of a sustainable Continental Free Trade Agreement(CFTA) for Africa. We also acknowledge that our continental aspirations must complement our national interests.— Muhammadu Buhari (@MBuhari) March 19, 2018
As Africa's largest economy and most populous country, we are committed to ensuring that all trade agreements we sign are beneficial to the long-term prosperity of the continent.— Muhammadu Buhari (@MBuhari) March 19, 2018
We are therefore widening and deepening domestic consultations on the CFTA, to ensure that all concerns are respectfully addressed. Any African Free trade agreement must Fairly and Equitably represent the interest of Nigeria, and indeed, her African brothers and sisters.— Muhammadu Buhari (@MBuhari) March 19, 2018. "
Source: https://www-africanews-com.cdn.ampproject.org/c/www.africanews.com/amp/2018/03/21/forty-four-countries-sign-historic-africa-union-free-trade-agreement/
Abdur Rahman Alfa Shaban 21/03/2018