R&B HANDLED A SERIES OF TRANSPORTS OF DREDGING EQUIPMENT
During the first quarter of 2022, R&B Global Projects, member of Africa Logistics Network representing Croatia & Serbia, was again cooperating with its close client, the Belgian Offshore Dredging Group Messrs. Jan De Nul, and handled a series of transports of dredging equipment from the two biggest shipyards in Croatia, where the client has ships docked for maintenance and standby.
R&B was, amongst numerous others, tasked to arrange several separate transports, being so-called "cutterheads" which had a diameter of almost 4 meters and weight of just over 25 tons, but also, steel shafts reaching 40 tons each, wheel axles, retaining rings, hydraulic cylinders, bearings and bushes have passed the desk lately… which mostly required oversized transport arrangements.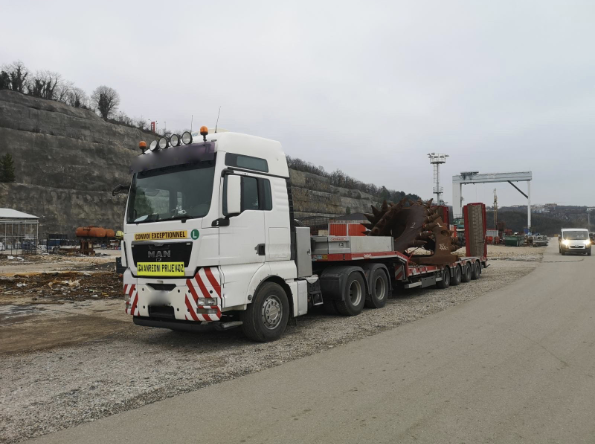 The challenge for those transports is usually the OOG dimensions/weights as the cargo needed urgent delivery and closely coordinated permits, and as soon as the transport permits were ready the trucks were on their way.
In the last minute there were changes to the loading dates (what else to expect in this market) but R&B handled changes with ease and adapted accordingly.

R&B would like to thank their client for his continues trust in them!
Watch the VIDEO!
R&B Global Projects, only for ALN members.